A Tribute to UC Berkeley Law Professor Pamela Samuelson
[These remarks are inspired by the Pamfest, a/k/a the "Symposium Celebrating Pamela Samuelson," held at UC Berkeley on November 3. I was honored to attend alongside dozens of the world's leading experts in copyrights (and other topics). We were all there to express our love, admiration, and appreciation to Pam. It was a joyous and uplifting occasion, as well as a catharsis for the many dozens of us who wanted to acknowledge how we have personally benefited from Pam's mentorship and support.]
* * *
My first collaboration with Pam occurred in connection with the 1997 Digital Content Symposium she organized (read her foreword). Although I didn't speak at the event, I pitched Pam on contributing an essay to the Berkeley Technology Law Journal symposium issue about how the Internet was impacting content-related business models. It's hard to describe my exultation when Pam said she would be interested in my contribution. I was a mid-level law firm associate at the time, and she was one of the world's leading thinkers on copyright law–and yet she wanted to hear what I had to say?! It's like Taylor Swift saying she wanted to hear me play my song for her. I was star-struck and a little dumbfounded.
* * *
In Fall 2001, I applied for a position as a full-time tenure-track professor. With trepidation, I asked Pam if she would be a reference. She had plenty of reasons to say no. I hadn't been one of her students, and I didn't fit the profile of a traditional candidate (I didn't go to a T14 school, I didn't graduate in the top 10% of my class, I didn't do a judicial clerkship, I didn't do a VAP or fellowship, etc.). Indeed, she did not say yes to my request immediately. But after I did some persuasion, she eventually agreed to back my candidacy–which dramatically boosted the gravitas of my application–and help me navigate the complex and drama-filled job search. With her help, I got a tenure-track position at Marquette Law, which I don't think would have happened without her support. I know how lucky I am to have joined the privileged community of tenure-track law professors, and I feel an ongoing responsibility to overperform in my job to prove that Pam's reference for me was justified.
* * *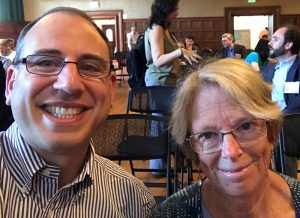 Pam has greatly influenced how I approach my job. When I first defined my professional identity as a scholar, I tried to emulate the way that Pam successfully wrote for multiple audiences, including other academics, policy-makers, and technologists. I also admire how Pam turns her research into tangible action that benefits the communities she serves. If you deconstruct my career choices, it should be apparent how many of them are inspired by or modeled after Pam's work.
* * *
I can never adequately express my appreciation or repay Pam for all of the ways she has helped me. However, in her honor, I do try to pay it forward as much as I can. Those efforts, however modest they are, are one additional piece of her many legacies.