Announcing the Publication of a New Book: "Find Kitty Nala"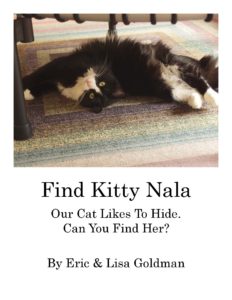 In November 2013, we adopted a kitten we renamed Nala, though we often call her "Kitty" for simplicity and lack of creativity. She is both photogenic and a furball of personality, so we take a lot of photos of her.
Unlike some cats, Kitty Nala doesn't have just a few favorite places to ply her kittycraft. Instead, because she views the entire house as her royal domain, she often enjoys trying out new and different resting spots–and sometimes she blends into the setting or otherwise becomes difficult to see. We began posting photos of her to Facebook, asking if our Facebook friends could "spot the kitty." This became a popular game in our Facebook circles, so I decided to compile the photos together into a book which challenges you to find her in the photos. The book is like a "Where's Waldo?" book, but with a cuter protagonist, and you'll marvel at Kitty Nala's cleverness and silliness in finding new hideouts. The photo "puzzles" are organized so they start super-easy to warm you up and become progressively more challenging. Every photo comes with an answer key in case you're stumped. See a couple of sample photos (#1 and #2), and check out her Flickr gallery.
The book is available as a DRM-free PDF download at Gumroad and in hard copy format from CreateSpace. The hard copy makes a fun holiday gift that the whole family will enjoy together. We also created a Zazzle store for kitty tchotchkes; if you have a favorite photo and want it on an item we haven't set up in Zazzle, let me know and I'll set it up.
We hope you like getting to know Kitty Nala. Enjoy the book!