My Mom Died: Gail Schlachter Hauser, 1943-2015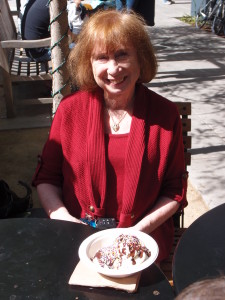 I'm devastated to report the death of my mother, Dr. Gail Schlachter Hauser, yesterday at the age of 72. She died unexpectedly during what we thought would be a routine biopsy. She is survived by her husband Stuart, her children Eric and Sandy, her son-in-law Jay and daughter-in-law Lisa, and her grandchildren Hayley, Leah, Jacob and Dina. Her death comes as a shock, and it leaves a huge hole in many communities–and in our hearts.
My mom was an extraordinary woman. After a difficult divorce, in 1971 she started a new life with little money and 2 small kids. She went on to make major contributions to the library field over a half-century, culminating in a position on the American Library Association (ALA) Executive Board. After a decade as an academic librarian, she moved into self-publishing financial aid guides full-time. She published dozens of different titles, including her landmark works the Directory of Financial Aids for Women and Directory of Financial Aids for Minorities, titles that gave help–and hope–to populations that needed it most. We'll never know just how many people benefited from her financial aid guides, but it means a lot to us to imagine the many lives that these works changed. In addition to her professional accomplishments, Mom was a shrewd real estate investor. She did all of this while raising two kids as a single parent.
My mom constantly put the needs of others before her own. I'm sure we'll hear many stories of librarians, publishers and others whose lives she touched and improved. Please email or send me your remembrances, anecdotes and war stories, and please let me know if I can share those comments publicly. Our apologies in advance that this is a hectic time and we may not be able to respond promptly.
Although I could recount many personal anecdotes of ways she prioritized my needs, I'll share just one. Last year I told my mom about Lisa's lung cancer diagnosis. Without hesitation, my mom told me that she wanted to move from Sacramento to our neighborhood so that she could help out our family. This move was extremely taxing on her, but her desire to help us trumped the substantial personal and financial cost she incurred. Her untimely death especially stings because she had only just completed most of the move logistics, yet we won't get to enjoy the benefits of having her so close.
Despite the many challenges she faced in life, Mom would often talk about how she "had the time of her life." She wanted us to play the song at her funeral, so I'll share it with you now:
Please no flowers. If you wish to donate in her name, we have set up a memorial fund at the American Library Association in accordance with her wishes. Contributions may be sent to the Gail Schlachter Memorial Fund at the American Library Association, 50 East Huron Street, Chicago, IL 60611 or online.
The burial service will be private, but we will have a public memorial service on the afternoon of May 17 at Beth Am in Palo Alto. [UPDATE: You can find more details about the event and RSVP here.] We also hope to celebrate her career at the ALA Annual Meeting in San Francisco in June.
Last weekend, my mom told me about her dream for her last ALA council meeting. She wanted to raise her hand and say that she had a "point of personal privilege." (She was adamant that Robert's Rules of Order allowed such things). She was then going to thank ALA for the experiences she had, and then–in her own words–"boogie" away dancing from the microphone. So that is how I'll choose to remember my mom's death: she dropped the mic and boogied on outta here.