How I Celebrated My 50th Birthday
As I mentioned in March, I turned 50 this year. Rather than limit my "birthday" to a single day, I decided to enjoy a year-long celebration. Here's everything I did:
Travel
In addition to these trips that I expressly designated as "birthday" celebrations, I did some additional celebration on trips to Palm Springs, Beverly Hills, and Washington state.
Other
I joined AARP! It turns out you don't need to be 50 to join. I can't say I've reaped many benefits yet. I guess I'll have to wait a while for the real senior citizen discounts to kick in.
I had my first colonoscopy! According to my doctor (this is an honest-to-god quote, I wouldn't make this kind of stuff up), I have "the colon of an 18 year old."
My colleagues conspired to throw a "surprise" celebration for my birthday at one of the major conferences for intellectual property professors (IPSC). I put "surprise" in quotes because I tried multiple times to thwart any such public celebration of my birthday. Still, it was heartwarming to feel the love from so many of my cherished and longtime colleagues. And we celebrated with 2 birthday cakes with emojis…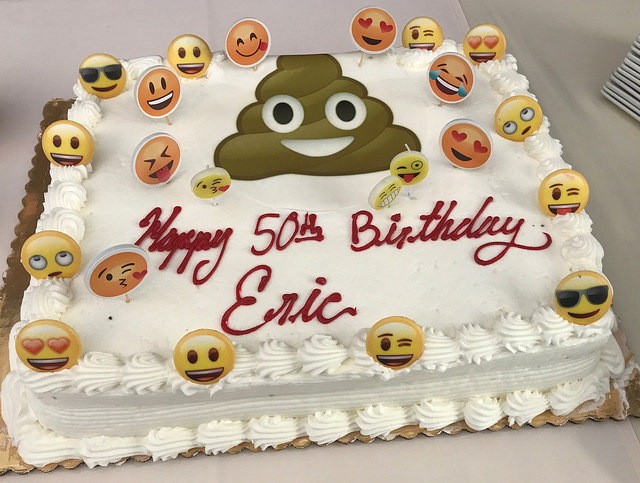 (yes, that's a poop emoji birthday cake!)
"Gifts"
I have more than enough stuff, so I didn't ask for any big-ticket goods. Still, my kids felt they needed to buy me some sort of gift. As a result, at my request, my kids bought me an emoji tie. I rarely wear ties, but the emoji tie has become my go-to attempt at cosplay for my emoji-related talks.
Also, though I didn't need my birthday as an excuse, I bought myself some emoji stickers to decorate my new office.
My March post indicated what I really wanted for my birthday: I asked friends. colleagues, and family to submit their "favorite or most memorable story or anecdote about" me to my wife. She collected dozens of submissions from all stages of my life and turned them into a remarkable book.
My kids and I read a few stories from the book each night over the course of a couple of weeks. There were so many amazing stories that I had forgotten or hadn't even realized happened. Just a few examples: how I helped a summer associate peer through a rough patch back in 1993; an unfulfilled promise I made to my mentee's dad in 1993 or 1994 that he hadn't forgotten (I finally closed the loop 24 years late); how I'd helped my student intern in 1988 type up a love letter to his now-wife that they have framed in their house, even though it contains a painful typo I made; how I'd kept one of my Marquette students from dropping out of school after failing a course…and he's gone on to be a partner at a major law firm; and so many more. We laughed, we cried, we were deeply moved. The book is the single best gift I could have received, and I thank everyone who submitted. We're going to do another printing to accommodate some late submissions, so if you haven't made your submission and still want to, please email my wife!
As part of this book, my daughter painted the front and back covers. These paintings are now sitting on my office desk, a constant reminder of my wonderful birthday year.