LIMITED TIME OPPORTUNITY: Order a Customized Pet Portrait From My Daughter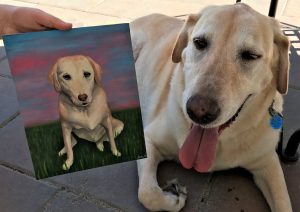 Due to the COVID19 lockdown, my 14 year old daughter has some extra time available to do commissioned portraits. On the right is a commissioned portrait she did last year. You can see more examples of last year's commissioned pet portraits at this photo album (look near the end). She did mostly dogs last year, but she's open to other animals (especially cats!), landscapes, and other subjects.
If you are interested in placing an order, email me (egoldman@gmail.com) (1) some reference photos so my daughter can evaluate feasibility, (2) any special requests if you have them, and (3) a mailing address. If she accepts the order, you'll get an acrylic painting on 8×10 canvas suitable for your framing. My daughter will paint an appropriate background with your input; it may be different than the background in the selected photo.
As with last year, my daughter would like buyers to pick their own price after they get the final painting. FWIW, last year the most popular price was $100, but buyers paid both more and less than that and it really didn't matter to her.