My Sister's Eulogy for Our Stepfather, Stuart M. Hauser (1928-2020)
[Intro: as I blogged last week, my stepfather Stuart Hauser died at age 92. On Thursday night, we held a virtual shiva service for him. My sister, Sandy Hirsh, made these remarks at the service:]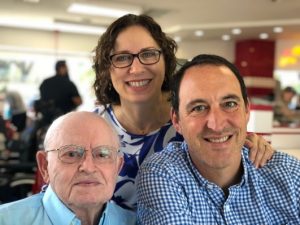 One week ago today, my dear stepfather Stuart Hauser, also known as Grandpa Stu in our family or Stewie as he was affectionately known as at his assisted living residence, passed away peacefully at the age of 92 years old.
I will always remember Stuart as a loving, sometimes silly, and perpetually positive person who was always ready with a compliment and an offer to help out.
Professionally, Stuart had an impressive career. He got a BS in Physics from Texas A&M University, opting for physics rather than chemistry because he was color-blind. He worked primarily as a telecommunications consultant focusing on telecommunication business strategies. He worked for many well-known companies, including SRI International and Xerox Development Corporation. His work ranged from analyzing the impact of the 1984 break-up of AT&T to establishing the telecommunications infrastructure for Singapore.
Stuart experienced many challenges in the first half of his life. His father died when he was 8 years old, his youngest brother also died, he had an abusive stepfather, he joined the army when he was 17 years old and served after WWII during the occupation of Japan in Korea, and his first marriage was an unhappy one that ended in divorce.
I share these beginnings as I think his challenging past helped him to appreciate when things turned around for him in the second half of his life – around the time that he and my mom started sharing their lives. My mom and Stuart got married in April 1986. My brother and I were both adults already and no longer living at home when they married. We had been raised by our mom as a single parent since we were very little, and we were a very close-knit family. Stuart fit into our family from the beginning – never trying to be our father, but always there as a loving, supportive and encouraging member of the family.
As Stuart's professional career in telecommunications consulting was slowing down, he took on new roles in support of my mom's publishing business and real estate interests. To support my mom's publishing company Reference Service Press, Stuart started his own side company called Publishers Support Services (PSS); he handled all of the packing and shipping for my mom's Reference Service Press books, and also for some other small publishing businesses. This was a big job, especially as the success of Reference Service Press grew and as my mom expanded the number of book titles that she produced. He managed a warehouse full of books and made many trips to the post office!
Stuart also helped my mom take care of her numerous real estate properties. People who knew my mom know that she liked to invest in real estate; she owned many properties which included vacation homes and rental properties in California, Nevada, and Arizona. Stuart did a huge amount of work on these properties – everything from handy work to endless amounts of weed whacking – to ensure the properties were well-maintained. He liked to do this work himself when he could and was frequently driving to the various properties to do some work on them.
When my mom died unexpectedly in 2015, one of our first concerns was to make sure we took care of Stuart. My mom, who was 15 years younger than Stuart, had moved Stuart into an assisted living residence near her in the Sacramento area in 2010 when he was showing signs of dementia, became confined to a wheelchair, and needed more care than she was able to give him. My brother and I moved Stuart out to Sunnyvale five years ago to be closer to us so we could visit him, help provide him with the support he needed, and involve him in family events. My husband Jay visited Stuart regularly and took Stuart out for outings; one of Stuart's favorite outings was to have lunch at In N Out and get his favorite treat – a root beer float! Root beer floats would always make Stuart so happy! [The photo above shows Stuart with Jay and Sandy at one of those In N Out outings.] While his physical strength weakened over the last five years and the dementia increasingly took its toll, we didn't see the full effect of this until the last 12 months when his condition sharply declined.
While we are very sad to lose Stuart, we have many wonderful memories that we will treasure about him. Stuart has been part of every major and minor event that has occurred in my adult life – from my graduation to my wedding to the adoption of our first puppy Freckles and he was even present at (and videotaped!) the birth of his first grandchild Hayley. In fact, my younger daughter Leah and Stuart even share a birthday – June 9th – and we have always celebrated their birthdays together. He attended our daughters' events including too many dance performances and swim meets to count. He and my mom, who lived in El Dorado Hills, were loving and devoted grandparents who would drive 3 hours each way so they would not to miss out on any part of their grandchildren growing up.  Stuart loved outdoor activities such as hiking, running and swimming, loved Western art, literature, and movies, wrote poetry, and loved dogs, especially Shelties. My mom and Stuart always had a Sheltie – starting with Lady and then Tessa and finally Laddie.
My mom always said that Stuart lived by the motto: "If a little is good, more is better." All of us in the family have seen evidence of Stuart living by this motto. For example, he liked to give birthday cards but always the jumbo-sized ones, or sometimes he would give you multiple cards for the same event. When he packed up the boxes for my mom's business, the boxes were always extremely heavily taped because he wanted to make extra sure they were secure. He never liked to run out of supplies – so always bought extras. He was a "just in case" kind of person.
As I said in the beginning, I think that the challenges he experienced in the first half of his life made him appreciative of the good things that happened later in life. He always would tell us how grateful he was to be part of our family. But I think we were the lucky ones.