Newly Listed: Dreamy Santa Barbara Riviera Home With Views You'll Never Forget
My mom owned numerous beautiful homes over her lifetime–homes that many of us would classify as "dream homes." Among this elite collection of real estate, her Santa Barbara home remains my clear all-time favorite. It wasn't the largest home she owned, or the most expensive, and I lived there only two years while I was in high school (and it's not like high school brings back fond memories. Cf. the John Hughes movies). Yet, more than 30 years later, this is the house I still dream about.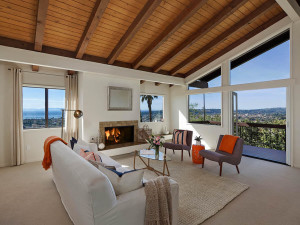 Why? It's simple: the views. The house has unobstructed panoramic views of the city, the harbor, the Santa Barbara Channel and the Channel Islands (Santa Cruz Island dominates the horizon). As a bonus, the loft has a west-facing view of the mountains, and I nostalgically recall watching sunsets from there. Compared to Montecito or Hope Ranch, Riviera homes typically have better views and way more convenient access to downtown, shopping and other services.
The house itself is a tri-level Spanish contemporary (the loft is a fourth level), nestled in a lush, private, garden-like and mostly usable half-acre with a semi-private circular drive. The house has 3 bedrooms (plus the loft), 2.5 baths and over 3,100 square feet. We recently did extensive renovations, including a new roof and gutters, new carpet, new paint, new water heater, pest work and more.
When my sister and I discussed whether to keep or sell my mom's properties, deciding to sell this property was the hardest choice we made. I'll almost certainly never live in such a nice house or have such amazing views again; and Santa Barbara is heavenly. When I visited the house in November, enjoying its jaw-dropping views and seasonably warm temperatures after a great vegan lunch at Mesa Verde, I wondered once again if we were making the right choice to sell the house. But I'm decades away from retirement and there's no ABA-accredited law school in Santa Barbara; and realistically I couldn't see using it as a vacation home frequently enough to justify keeping it. And so, despite my affection and nostalgia for this house, we're putting it on the market so one very lucky buyer can live this dream.
* * *
The brokers' description of the house:
Panoramic views surround you from every direction with the southern exposure toward the ocean, islands & harbor to the gorgeous western exposure with year-round sunsets and the city views of the landmark buildings of downtown Santa Barbara. Even mountain views are captured here! For those buyers who want the BIG ocean views, Spanish-style and a red-tile roof, this light and bright 3 bedroom + house has it all with over 3100 sf.

Located on a .58 acre parcel with quite a bit of useable land, this residence also has a new roof, new rain gutters and downspouts, new interior paint and new carpet. The rooms are large, the floor-plan is open and the tongue and groove ceilings are enhanced with wood beams.

A beautiful ancient oak tree graces the driveway turnaround in this mostly flat location. The off-street parking is excellent for the Riviera and the generously sized 2-car garage even has a window to the ocean view!

This is an excellent value in today's hot Riviera market!
The full MLS listing and the dedicated website, both including more fabulous photos.