Newly Listed: Fabulous Los Altos House In Incredible Location
In 2014, my mom relocated from Sacramento to Los Altos to help our family cope with Lisa's cancer. (As I've mentioned before, the plan unfortunately didn't work out as we'd hoped). Given her situation, most people would have expected my mom to downsize and maybe find a lower-maintenance residence like a townhouse or condo. Nope. My mom always prided herself on having a fabulous principal residence, and she wasn't going to let Bay Area real estate prices deter her. So my septuagenarian mom bought a 5 bedroom, 3300 square foot home on 1/3 of an acre that she occupied all by herself (well, and her Sheltie dog). No, it didn't make any sense to any of us either, but it was her home and her decision, and we were glad to have her close-by.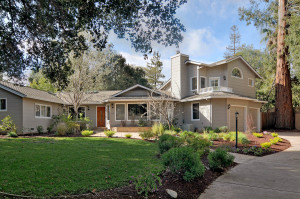 While we might question my mom's logic, there's no question at all about my mom's exquisite taste in homes. This home will satisfy the most discerning expectations for what a luxury home should be. It's a single level home plus a bedroom suite upstairs that would be perfect for an office, au pair or in-laws. The rooms are spacious and most have lovely views of the park-like grounds that includes mature redwood trees, fruit trees and a cute-as-a-button playhouse. The house was tastefully remodeled by the prior owner and includes most of the amenities you'd expect in a first-class home. I spent some time working out of the home over the last 10 months, and I found it a peaceful yet productive place to be. My wife and I love the house so much that we seriously considered buying it for ourselves and selling our house in Mountain View. (We ultimately decided against it because it would require a change of school districts and we couldn't justify the disruption for the kids).
While I love the home, I love the location even more. It's in the Highlands district of Los Altos, a neighborhood you probably don't know much about–but it will pleasantly surprise you. Even though the neighborhood is rustic (no streetlights or sidewalks, lots of redwoods) and feels millions of miles away from the craziness of Silicon Valley, it's an easy walk to a Lucky's supermarket, Trader Joe's, Rite Aid, the Foothill Produce store, restaurants, Wells Fargo bank, and the Woodland Library. Yes, WALKING DISTANCE to all of the above. (Cue the "Nobody Walks in LA" jokes–indeed, I don't think my mom walked to any of these amenities).
And the driving convenience is also remarkable. It's a 2 minute drive to the 280/85 intersection, and from there, all South Bay, Peninsula and East Bay destinations are easy to reach (my time estimates are for off-peak hours, but some of these destinations are reverse commutes). Apple's headquarters? 5 minutes. Google HQ? 15 minutes. Facebook HQ? 20 minutes. Downtown Mountain View? About 10 minutes. Santa Clara University? 15 minutes. Downtown San Jose? 20 minutes. And via Foothill Expressway, downtown Los Altos is less than 10 minutes and Stanford is 15 minutes.
A word about the price. If you live outside of California, the price will seem comically stratospheric. But in the tight real estate markets of Los Altos, Palo Alto and Mountain View, you'd expect to pay a lot more for such a large house, so tastefully updated, on such a large and lovely lot. There's no such thing as a "bargain" Los Altos house, but this house is a good value compared to other mid-Peninsula options.
The house is listed by David Troyer of Intero. He'll hold open houses Friday through Sunday. If you know someone interested in buying a mid-Peninsula luxury home, please spread the word. For more details: