A Tribute to My Departing Colleague, Prof. Colleen Chien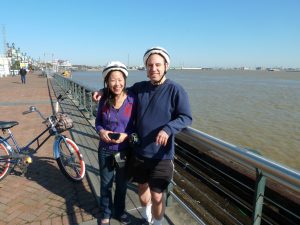 My colleague, Prof. Colleen Chien, is leaving Santa Clara Law and moving to UC Berkeley Law. This is great news for her, and congratulations to Berkeley Law on a terrific hire. Personally, I'm happy for Colleen but sad for myself. For the past 15 years, Colleen and I have developed a tight professional relationship that has boosted both of our careers. While I'm sure that relationship will continue, inevitably it will not be quite the same. (As the idiom goes, all good things must come to an end). This impending loss is why I have single-handedly increased the revenues of tissue manufacturers.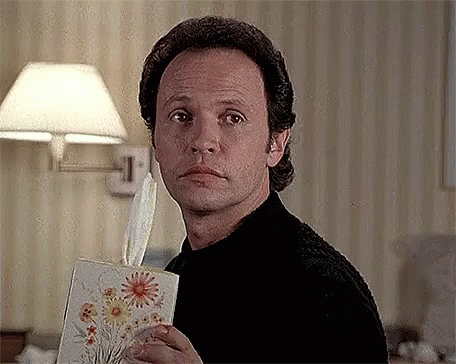 * * *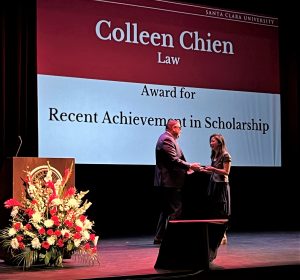 I was a slightly more senior faculty member to Colleen in our high tech program, which naturally positioned me to become one of Colleen's chief evangelists. I served as chair of both her tenure committee and her promotion committee, each time writing the scholarship portion of the committee report. I nominated her for ALI membership and numerous awards, including most recently the SCU-wide award for recent achievements in scholarship (see photo at right). Of course, it's easy to sing the praises of someone as talented and accomplished as Colleen.
Initially, our swimlanes didn't overlap very much. Entry-level Colleen was all about patents, and I primarily focused on Internet Law. Over time, our swimlanes increasingly converged. I supported our patent community in my HTLI director role. For example, a decade ago, Colleen and I jointly organized two conferences on patents (1, 2), including a major essay package for the latter. We also co-authored a short piece on patents. Then, as Colleen expanded her interests to AI, she started exploring typical Internet Law topics. Her work for the US government further took her into Internet Law.
We've had so many other overlaps. With my work as Associate Dean for Research and her role on the Faculty Enrichment Committee, we cooperated to advance our colleagues' scholarship. We attended many of the same conferences (the top photo is from AALS in New Orleans 2013–in our downtime, we took a bike tour together). We exchanged paper drafts for feedback (note: between reviewing her drafts and my scholarship review for her tenure and promotion committees, I have probably read more of Colleen's papers than just about any non-family member). We both prioritized developing and promoting our students. We commiserated as GenXer parents navigating the balances between home and work responsibilities. For the past 5 years, our offices were literally next-door to each other (and due to the thin walls, we had few secrets from each other LOL).
I come away from all of this with extraordinary gratitude for Colleen's contributions to our school, community, and students; 15 years of great memories; and many inspirations about how I might do my job better.
 * * *
As a colleague, Colleen is irreplaceable, so the law school won't try to hire a "replacement" for her. However, before Colleen announced her departure, the dean had already authorized opening a search for an IP/tech lateral to backfill some other departures and continue investing in our program. With Colleen's departure, the dean authorized a second IP/tech hire. The school is interested in both laterals and entry-level, but with a preference for the former. I was the last IP/tech lateral the law school hired (17 years ago!), so these spots may be once-in-a-generation opportunities for the right candidates. If you think that might be you, please email me so we can set up an informal chat (I am on the appointments committee). The job listing.
Some reasons why Santa Clara Law remains a premier institution in the IP/tech law space:
We are a highly ranked IP program by US News (#4 for the past several years). While the rankings are based on terrible methodology, our ranking surely reflects that we possess a "complete" program: multiple IP/tech faculty, dozens of courses, a clinic, a journal, multiple certificate options for JD students, LLM degrees, many student groups, moot court teams, an externship program, and conferences. With respect to the latter, we are hosting WIPIP again in 2024 and plan to resume the Internet Law WIP series in 2025.
Our student population is incredible. Up to half of our incoming students say they are interested in high tech; and this year about 90 graduating students earned a tech-related certificate (~40% of the graduating class). Our students compete at the very highest levels nationally. We've had multiple winners of the AIPLA national awards (Jan Jancin and others) in the past decade; an SCU team won the Giles Rich patent moot court competition last year; we routinely place our top students in biglaw (if they want it), including the leading Silicon Valley firms; and with Colleen's help, a couple of recent alums did Federal Circuit clerkships. Relatedly, our alums have an outsized presence in the local in-house counsel departments. For example, a few years ago, a study showed that Santa Clara Law was the #1 feeder school into Apple's legal department.
We have been having great success with our high tech students' outcomes. For example, our Tech Edge JD has been a roaring success. Also, when I crunched the numbers a few years ago, our Privacy Law Certificate had a majority of alums start their career as in-house privacy counsel (whereas many law schools tell their students that new graduates simply cannot get those jobs). These successes reflect that we really have some differentiated programs, and recently Bloomberg Law recognized both our Privacy Law Certificate and our Tech Edge JD certificate for their pedagogical innovations.
The school supports faculty scholarship in many ways, and professors can engage in cross-disciplinary work with other arms of the university, such as participating in the Markkula Center for Applied Ethics and the Ciocca Center for Entrepreneurship in the business school. For example, my colleague Brian Love has an extremely successful writing partnership with Christian Helmers in the business school.
Our Silicon Valley location provides a lot of visibility in the IP/tech community, which can translate into speaking opportunities, media placements, networking and information-sharing opportunities with industry players, and potential consulting gigs.
Our high tech program has several sources of independent financial support, giving us the freedom to pursue programmatic innovations without hitting up the dean or raising new money.
Our faculty is collegial. We genuinely like each other. And as our marketing shows, we take the law seriously but try to find levity where we can.
In conversations over the years about our respective career developments, I regularly told Colleen that I believed that both she and I could accomplish all of our lifetime professional objectives using the Santa Clara Law platform. I continue to believe that.