Announcing the Helen B. and Lewis E. Goldstein Scholarship Fund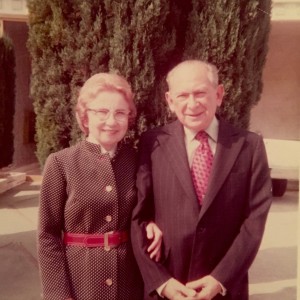 We're pleased to announce a new scholarship fund, the Helen B. and Lewis E. Goldstein Scholarship Fund. Helen and Lew were my mom Gail Schlachter's parents (i.e., my grandparents), who died in 1984 (Lew) and 1988 (Helen). Before her death, my mom set aside some money to create a scholarship in their honor, and I contributed some money as well. We've established the scholarship with the Jewish Community Federation of San Francisco, and the first award will be made this year. See the description and application process on the Jewish Federation's website. The total scholarship amount will be at least $6,800 per year, and here are the eligibility requirements we specified to the federation:
a Jewish full-time student enrolled in an accredited undergraduate or graduate school (i.e., incoming freshman to graduate student) in the United States. Other criteria the scholarship committee may consider as "plus" factors: (1) recipient is an immigrant, or (2) recipient is enrolled in a professional school, especially law, business or library/information science.
All scholarship recipients will get the following statement:
Lewis Goldstein's family emigrated from Russia, with stops in England and Canada before arriving in Detroit. Helen Goldstein left a shtetl in what is now Poland, traversed on foot across Europe to escape World War I, and arrived in Detroit.

Lewis obtained a law degree from Detroit College of Law and eventually became a civilian government contracts specialist for the U.S. Air Force in California. The Goldsteins had two children, Larry and Gail, who earned advanced degrees and achieved substantial professional success as a lawyer and librarian/publisher. The Goldsteins believed deeply in the value of education (even though Helen never had the privilege of completing her schooling); and though their lifetime earnings were modest, they set aside money to help their five grandchildren pursue their educations.

Their story might sound similar to the stories of thousands of other Eastern European Jews who emigrated to the United States, but it's a powerful story that deserves retelling. The Goldsteins fled persecution, anti-Semitism and war violence in Europe to find tolerance and economic opportunity in the United States; and through their hard work and investments in education, they provided a better life for their descendants. It means a great deal to the Goldstein family that Helen and Lewis' legacy includes an investment in your education with the hope it will provide long-term benefits to you and your descendants.
If you are interested in contributing to this fund, please let me know.