Newly Listed: My Mom's "Mountain Home" in the Sierra Foothills
I'm continuing to liquidate the real estate portfolio left by my mom's death. We just listed my mom's "second home," which is a little misleading because my mom had several "second" homes. This particular one was a long-time family favorite, and while we're sad to see it go, it's time to let another family love it.
It's located in the Sierra foothills along the Highway 4 corridor, just outside of the cutesy and trendy Gold Rush town of Murphys. If you've never been to the Highway 4 corridor, you might be surprised how it's jam-packed with fun activities: skiing in the winter at Bear Valley, hiking at all elevation levels, awesome sequoias at Big Trees State Park, wineries, historical towns, several fun caves to tour, and so much more. The house is located in a gated development called Forest Meadows at an elevation high enough to have beautiful trees and low enough to avoid most snow in the winter.
The house itself has a great layout for family getaways, with a master bedroom on one side and two kids' bedrooms plus a den on the other side. Right behind the house is a bunch of community amenities, including a pool, park and tennis courts. To make it even easier to move in, we're including the furnishings as part of the sale.
The listing price is $249,000, which you'll see compares quite favorably to the prices shown on Zillow. See the full Zillow listing, which includes a full photo album. Here's the front view: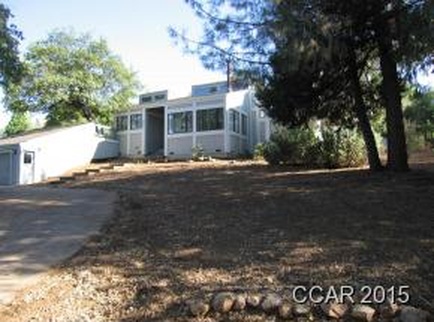 If you're interested, contact Duane Papais at (209) 728-8000 Ext.108 or fmp@goldrush.com.
Also on the market: an investment property in Angels Camp.