Newly Listed: Entry Level Condo in Los Angeles (El Sereno Area)
My campaign of real estate liquidation continues. Newly on the market is 2331 Highbury Ave #25, Los Angeles, a 2 bedroom, 2 bath condo in the Autumn Pointe condo complex. The condo unit is pretty basic and some cosmetics could use some updating (e.g., the drapes are vintage 1980s), but it has two standout features:
1) Location. It's within walking distance of Cal State LA and has immediate freeway access to the 710 near its junction with the 10, making it convenient to reach many destinations in the LA basin (i.e., as quickly as traffic will allow, which I know isn't saying much). It's less than 8 miles to downtown LA (bike-rideable!) and about a 20 mile straight shot down the 710 to downtown Long Beach. The neighborhood is nestled between El Sereno, Alhambra and Monterey Park–an eclectic and multi-cultural mix of communities.
2) Price. The condo is listed for $218,888 (yes, we went a little crazy with the Chinese numerology). That price might sound like it should be a nice Midwest suburban house, but anyone familiar with prices in California metropolitan areas probably did a double-take. Is it really possible to own a nice 2 bedroom condo in the heart of Los Angeles for less than a quarter-million? Incredible but true–yes it is! This price point should work for someone who wants to buy their first real estate property in Los Angeles (and bonus! the complex is FHA-approved). At this price, it also may work for an investor looking to buy and lease, especially with the rental demand generated by the Cal State LA community.
You can see the complete photo gallery. Here's the front view: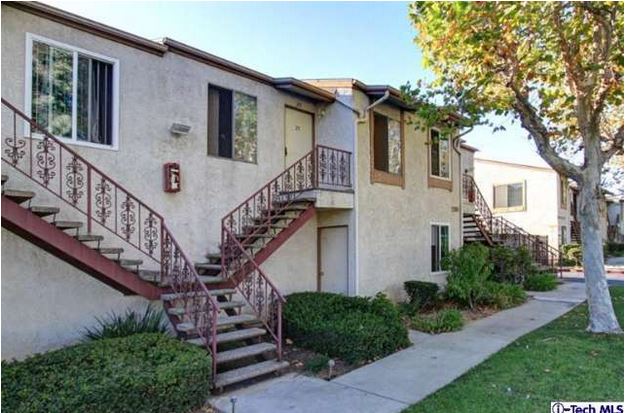 Since the property hit the MLS Monday, we've gotten strong demand for this unit, so if you're interested, move fast. For more information, contact May Gonzalez, Teles Properties, may.gonzalez@telesproperties.com, p0(626) 429-8291.
Also available:
* Awesome Sunnyvale Condo Within Biking Distance of Apple
* Angels Camp investment property
* Forest Meadows "mountain" home